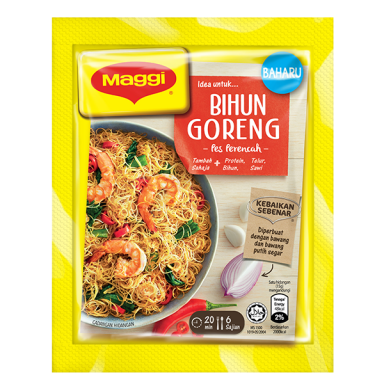 MAGGI® Fried Bihun Recipe Mix
MAGGI® Fried Bihun Recipe Mix
A perfect blend of fresh garlic, shallots, and red chillies. Stir fry with vermicelli to make your family's favourite Bihun Goreng.
Onion (29%), Blended Palm Oil And Stearin, Garlic, Chilli, Flavour Enhancer (Monosodium Glutamate), Soya Sauce (Contains Wheat), Salt, Wheat Flour, Mineral (Potassium Chloride), Shrimp Paste (Belacan), Sugar.
Contains Permitted Flavour Enhancer. All additives are of plant or synthetic origin.
May Contain: Fish, Milk, Mollusks, Celery.
More Information
| | | |
| --- | --- | --- |
| Sos Soya | yes | - |
| Tepung Gandum | yes | - |
| Belacan | yes | - |
| Ikan | yes | - |
| Susu | yes | - |
| Moluska | yes | - |
| Saderi | yes | - |
Yes - according to the recipe with the addition
No - According to the recipe, no additive
N / A - not specified