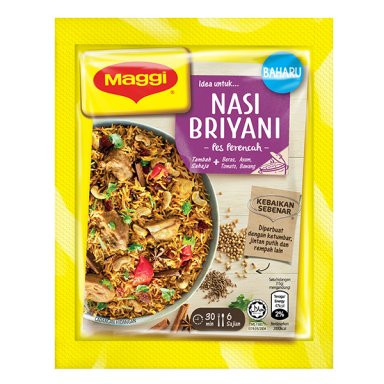 MAGGI® Original Briyani Rice Recipe Mix
MAGGI® Original Briyani Rice Recipe Mix
With quick and easy steps, you too can make tasty and aromatic biryani rice that wows your family and guests!
Onion, Blended Palm Oil And Stearin, Salt, Flavour Enhancer (Monosodium Glutamate), Coriander, Garlic, Ginger, Wheat Flour, Chilli, Cumin, Spices, Turmeric. Contains Permitted Flavour Enhancer.
Food additives are of plant or synthetic origin.
May contain: Crustacea, Fish, Soya, Mollusks, Celery, Mustard
More Information
| | | |
| --- | --- | --- |
| Tepung Gandum | yes | - |
| Krustasia | yes | - |
| Ikan | yes | - |
| Soya | yes | - |
| Moluska | yes | - |
| Saderi | yes | - |
| Biji Sawi | yes | - |
Yes - according to the recipe with the addition
No - According to the recipe, no additive
N / A - not specified