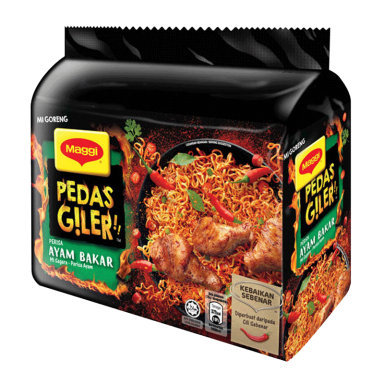 MAGGI® Pedas Giler Ayam Bakar
The Extra-Spicy, Extra-Shiok noodles thats hot in the market right now! Made from a great blend of crazy spicy chillies to blow your mind!

How to enjoy the SYIOKness of MAGGI® Pedas Giler Ayam Bakar
Step 1
Boil 450mil water in pot
Step 2
Add MAGGI? Pedas Giler Seafood Berapi noodles Leave for 2 minutes.
Step 3
Drain water. Caution: HOT! Use with care.
Step 4
Add seasoning according to your taste preference and mix evenly.
Noodle Cake: Wheat Flour, Palm Oil, Salt, Riboflavin. Contains Stabilisers As Permitted Food Conditioner.

Sauce: Sweet Seasoning Sauce (Contains Soya, Wheat).

Flavoured Oil: Palm Olein, Paprika Extract. Contains Permitted Flavouring (Contains Milk).

Mixes: Salt, Sugar, Chilli, Palm Fat And Olein, Tapioca Starch, Soya Sauce, Wheat Flour, Spices, Chicken Fat, Garlic, Onion. Contains Yeast Extract, Monosodium Glutamate, Sodium Inosinate and Sodium Guanylate As Permitted Flavour Enhancer. Contains Acidity Regulator As Permitted Food Conditioner. Contains Permitted Flavourings And Colouring.

All additives are of plant, cow's milk or synthetic origin.
More Information
| | | |
| --- | --- | --- |
| Gandum | yes | - |
| Soya | yes | - |
| Susu | yes | - |
| Krustasia | yes | - |
| Ikan | yes | - |
| Saderi | yes | - |
| BIji sawi | yes | - |
Yes - according to the recipe with the addition
No - According to the recipe, no additive
N / A - not specified