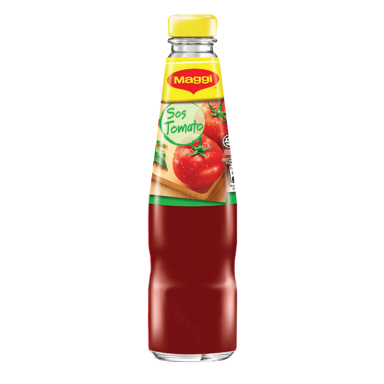 MAGGI Tomato Ketchup - Bursting With Flavours
Just add a dash of this sauce into your dishes for a rich, savoury, tomato flavour. Fresh juicy tomatoes, brimming with flavour. Experience the perfect balance of sweet and sour flavours in your cooking.

Ingredients
Made with 100% real tomatoes
Sugar/Brown Sugar, Tomato Paste (17.8%), Vinegar, Salt.
Contains Thickener As Permitted Food Conditioner.
Contains Permitted Flavouring.
All additives are of plant or synthetic origin.
More Information
| | | |
| --- | --- | --- |
| Gandum | yes | - |
| Soya | yes | - |
| Krustasia | yes | - |
| Ikan | yes | - |
| Susu | yes | - |
| Saderi | yes | - |
| Biji Sawi | yes | - |
| Moluska | yes | - |
Yes - according to the recipe with the addition
No - According to the recipe, no additive
N / A - not specified