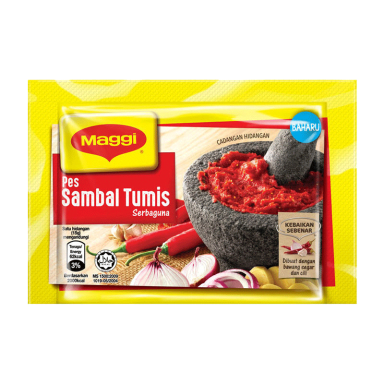 Easy to "pecah minyak", for guaranteed great sambal taste! The NEW MAGGI® Sambal Tumis Paste
gives guaranteed results, your heart will surely be in delight.

Ingredients
- Chili
- Garlic
- Ginger
- Onion

Instructions
Step 1 : Heat oil and saute onion
Step 2 : Add MAGGI Sambal Tumis paste and saute until pecah minyak
Step 3 : Add your preferred protein and other ingredients and let it cook.
Onion (42%), Palm Fat, Chilli (7.1%), Ginger, Salt, Garlic (2.9%), Paprika Extract.
Contains Monosodium Glutamate As Permitted Flavour Enhancer.
Contains Permitted Flavouring.
More Information
| | | |
| --- | --- | --- |
| Gandum | yes | - |
| Soya | yes | - |
| Krustasia | yes | - |
| Ikan | yes | - |
| Susu | yes | - |
| Saderi | yes | - |
| Biji sawi | yes | - |
| Biji Sawi | yes | - |
Yes - according to the recipe with the addition
No - According to the recipe, no additive
N / A - not specified