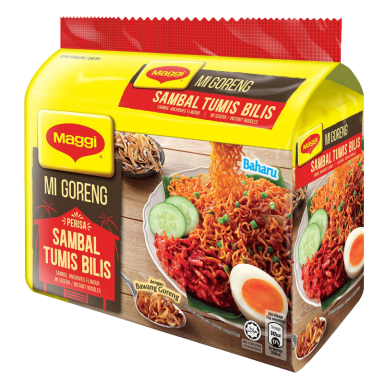 MAGGI® Mi Goreng Sambal Tumis Bilis
Featuring the spicy, savory taste of sambal ikan bilis, served on a plate of Mi Goreng. A truly Malaysian flavor!


How to make MAGGI® Mi Goreng Sambal Tumis Bilis
Step 1 Boil 450mil water in pot
Step 2 Add MAGGI® Mi Goreng Sambal Tumis Bilis Leave for 2 minutes.
Step 3 Drain water. Caution: HOT! Use with care.
Step 4 Add seasoning according to your taste preference and mix evenly.
Noodle Cake: Wheat Flour, Palm Oil, Salt, Sodium Tripolyphosphate, Guar Gum, Potassium Carbonate, Sodium Carbonate and Riboflavin

Mixes: Sugar, Vegetable Oils (Palm, Palm Kernel), Salt, Anchovy (7%), Garlic, Chilli, Monosodium Glutamate, Potassium Chloride, Tomato, Onion, Caramelized Sugar, Soya Flakes, Wheat Flour, Paprika, White Pepper, Shallot, Acetic Acid, Dextrose, Corn Starch.

Garnishing: Onion, Corn Flour, Palm Olein, Rice Flour

All additives are of plant or synthetic origin.
More Information
| | | |
| --- | --- | --- |
| Gandum | yes | - |
| Ikan | yes | - |
| Soya | yes | - |
| Krustasia | yes | - |
| Susu | yes | - |
| Saderi | yes | - |
| Biji Sawi | yes | - |
| Moluska | yes | - |
Yes - according to the recipe with the addition
No - According to the recipe, no additive
N / A - not specified