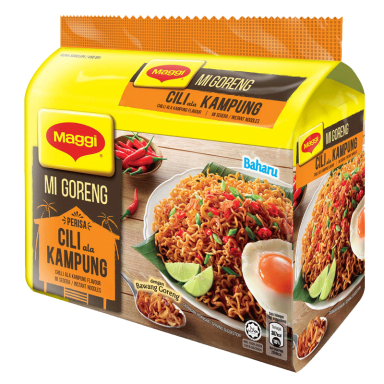 MAGGI® Mi Goreng Cili Kampung
The perfect balance of spicy, salty and sweet, in a dish of Mi Goreng. A truly Malaysian flavor!

How to make MAGGI® Mi Goreng Cili Kampung
Step 1 Boil 450mil water in pot
Step 2 Add MAGGI® Mi Goreng Cili Kampung Leave for 2 minutes.
Step 3 Drain water. Caution: HOT! Use with care.
Step 4 Add seasoning according to your taste preference and mix evenly.
Noodle Cake: Wheat Flour (70%), Palm Oil, Salt, Riboflavin. Contains Stabilisers As Permitted Food Conditioner.

Sauce: Sweet Seasoning Sauce (Contains Soya, Wheat).

Flavoured Oil: Palm Olein, Shallot.

Mixes: Sugar, Salt, Chilli (15%), Mineral, Onion (2%), Garlic (1%), Palm Fat, Caramelised Sugar, Corn Starch, Paprika Extract.
Contains Permitted Flavourings (Contains Milk). Contains Monosodium Glutamate As Permitted Flavour Enhancer.

Garnishing: Onion, Corn Flour, Palm Olein, Rice Flour

All additives are of plant, cow's milk or synthetic origin.
More Information
| | | |
| --- | --- | --- |
| Gandum | yes | - |
| Soya | yes | - |
| Susu | yes | - |
| Krustasia | yes | - |
| Ikan | yes | - |
| Saderi | yes | - |
| Biji Sawi | yes | - |
Yes - according to the recipe with the addition
No - According to the recipe, no additive
N / A - not specified