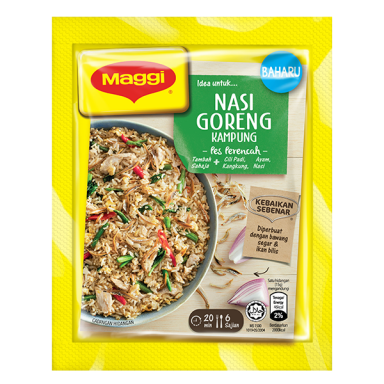 MAGGI® Kampung Fried Rice Mix
MAGGI® Kampung Fried Rice Paste
Recipe Mix making Kampung Fried Rice for the family has never been easier with this fresh paste made from garlic, fresh red onions, and selected anchovies.
Blended Palm Oil And Stearin, Onion (27%), Anchovy (22%), Garlic, Salt, Flavour Enhancer (INS621), Wheat Flour, Shrimp Paste (Belacan), Flavouring.
Contain Permitted Flavour Enhancer And Flavouring. Food additives are of plant or synthetic origin.
More Information
| | | |
| --- | --- | --- |
| Tepung Gandum | yes | - |
| Belacan | yes | - |
| Soya | yes | - |
| Moluska | yes | - |
| Saderi | yes | - |
Yes - according to the recipe with the addition
No - According to the recipe, no additive
N / A - not specified