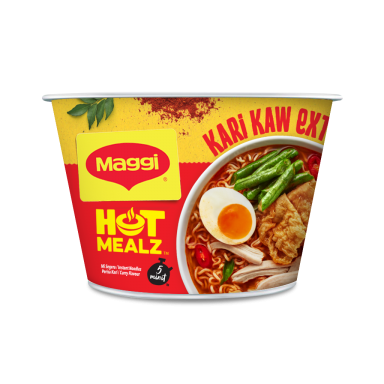 MAGGI® Hot Mealz Kari Kaw Extra
EXTRA Kaw & Delicious MAGGI® HotMealz Kari Kaw Extra!

A rich and intense curry soup made from a roux with a combination of 12 aromatic spices that are slow-cooked to perfection. Paired with thicker and springier noodles, it's topped with chunkier garnishes that will leave you craving for more!

Ingredients
- Cumin
- Chili
- Turmeric
- Cloves
- Fenugreek
- Nutmeg
- White Pepper
- Cardamom
- Ginger
- Fennel Seed
- Coriander Seed
- Paprika

Enjoy EXTRA Kaw flavours in 5 minutes!
Step 1 : Add 350ml of hot water.
Step 2 : Leave for 5 minutes, then stir.
Step 3 : Enjoy!
Noodle cake: Wheat Flour (60%), Palm Oil, Starch, Salt, Sugar, Potassium Chloride, Sodium Tripolyphosphate, Guar Gum, Potassium Carbonate, Sodium Carbonate and Caramel.

Soup Mix: Salt, Monosodium Glutamate, Palm Oil, Starch, Potassium Chloride, Sugar, Chilli, Wheat Flour, Yeast, Garlic, Maltodextrin, Coriander, Flavourings (contain Soya), Sodium Inosinate and Sodium Guanylate, Onion, Cumin, Citric Acid, Anise, Turmeric, Caramel, Ginger, Fenugreek, Canola Oil, Clove, Cardamom, Nutmeg, Paprika, Guar Gum, Anti-caking Agent (E551).

Garnishing: Leek, Chilli.

Flavoured Oil: Palm Olein, Flavouring (Contains Milk) and Paprika.

All additives are of plant, cow's milk or synthetic origin.
More Information
| | | |
| --- | --- | --- |
| Gandum | yes | - |
| Soya | yes | - |
| Krustasia | yes | - |
| Ikan | yes | - |
| Saderi | yes | - |
| Biji Sawi | yes | - |
| Moluska | yes | - |
Yes - according to the recipe with the addition
No - According to the recipe, no additive
N / A - not specified