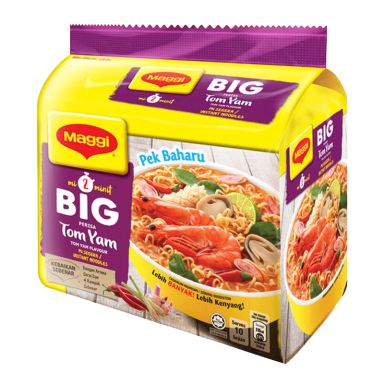 Enjoy more of the aromatic sensation in an instant with MAGGI®BIG TomYam. Savour the flavours of real herbs & spices for a greater aromatic tomyam sensation. Greater flavours in every bite. Deliciously made with the taste of kaffir lime leaves and lemongrass, ensuring that unmistakable fragrance of a hot & sour tomyam soup and extra springy noodles with every slurp! Ready in an instant!

Ingredients
- Kaffir Lime Leaves
- Black Pepper
- Galangal
- Paprika
- Red Chillies
- Lemongrass

How to make Maggi Big 2-Minute Tom Yam Noodles
Step 1 : Boil two cups water (450ml) in pot
Step 2 : Add MAGGI 2-Minute Noodles and seasoning, boil for 2 minutes
Step 3 : Stir evenly, serve and enjoy

Noodle cake: Wheat Flour (70%), Palm Oil, Salt, Potassium Chloride, Guar Gum, Sodium Tripolyphosphate, Potassium Carbonate, Sodium Carbonate.

Soup mix: Salt, Monosodium Glutamate, Sugar, Palm Oil and Olein, Starch, Black Pepper, Chilli, Malic Acid, Wheat Flour, Potassium Chloride, Flavourings, Galangal, Lemongrass, Soya, Citric Acid, Colouring, Wheat Grains, Palm Kernel Fat, Shallot, Garlic, Acetic Acid, Dextrose.

All additives are of plant or synthetic origin.
More Information
| | | |
| --- | --- | --- |
| Gandum | yes | - |
| Soya | yes | - |
| Krustasia | yes | - |
| Ikan | yes | - |
| Susu | yes | - |
| Saderi | yes | - |
| Biji Sawi | yes | - |
Yes - according to the recipe with the addition
No - According to the recipe, no additive
N / A - not specified