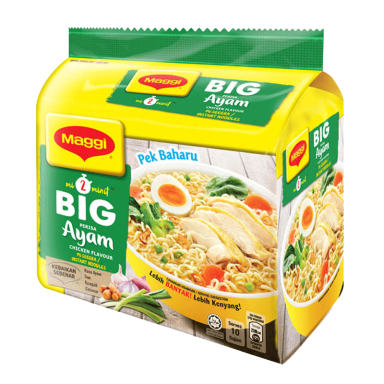 Enjoy even more instant hearty goodness with MAGGI® BIG Ayam. Savour the taste of real chicken for a truly satisfying and hearty meal that's ready in just two minutes! Capture the taste of real chicken meat. Made from a blend of aromatic herbs and spices, our extra springy noodles with leave you feeling truly satisfied with every slurp!

Ingredients
- Red Onions
- Garlic
- Celery Seed
- Turmeric
- Leek


How to make Maggi Big 2-Minute Chicken Noodles
Step 1 : Boil two cups water (450ml) in pot
Step 2 : Add MAGGI 2-Minute Noodles and seasoning, boil for 2 minutes
Step 3 : Stir evenly, serve and enjoy
Noodle Cake: Wheat Flour (70%), Palm Oil, Salt, Mineral (Potassium Chloride). Contains Stabilisers As Permitted Food Conditioner.

Soup Mix: Salt, Sugar, Corn Starch, Chicken Meat And Fat (5%), Mineral (Potassium Chloride), Soya Sauce (Contains Wheat), Palm Fat, Leek, Onion, Garlic, Celery Seed, Turmeric.
Contains Monosodium Glutamate As Permitted Flavour Enhancer.
Contains Permitted Flavourings.

All additives are of plant or synthetic origin.
More Information
| | | |
| --- | --- | --- |
| Gandum | yes | - |
| Soya | yes | - |
| Saderi | yes | - |
| Krustasia | yes | - |
| Ikan | yes | - |
| Susu | yes | - |
| Biji Sawi | yes | - |
Yes - according to the recipe with the addition
No - According to the recipe, no additive
N / A - not specified