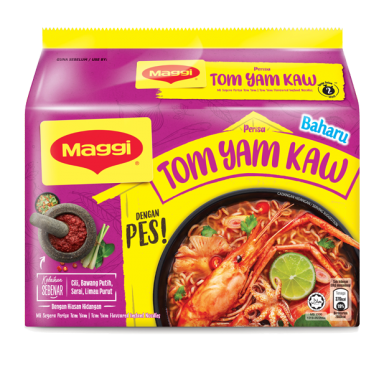 Mi MAGGI® 2-Minute Noodles Tom Yam Kaw
Bringing back the nostalgic authentic taste of Malaysia's favourite with Mi MAGGI® Tom Yam Kaw.

Awaken your senses with a combination of fresh ingredients and springy noodles made from Australian wheat!
Satisfy your cravings in just 2 minutes!
Step 1: Boil 2 cups (360ml) of water, then add seasoning paste and vegetable garnishes included in the package.
Step 2: Add noodles and boil for 2 minutes.
Step 3: Enjoy!
-Lemongrass
-Kaffir lime
-Red chillies
-Black pepper
-Garlic
-Onions
More Information
| | | |
| --- | --- | --- |
| Gandum | yes | - |
| Soya | yes | - |
| Krustasia | yes | - |
| Ikan | yes | - |
| Susu | yes | - |
| Saderi | yes | - |
| Biji Sawi | yes | - |
Yes - according to the recipe with the addition
No - According to the recipe, no additive
N / A - not specified