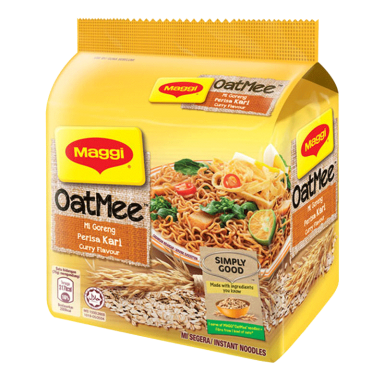 MAGGI® OatMee™ Mi Goreng Curry Flavour
Goodness of oats in every bite. Create your own bowl of oat-some happiness with new, fun and delicious recipes that will take your favourite noodles to new heights.
Made from 50%** whole-grain oats
**Ratio in percentage of whole grain oat flour to wheat flour noodles is 51:49 Blend of 12 real spices for a delicious curry flavour with shallot oil & savoury sauce.


How to make MAGGI® OatMee™ Mi Goreng Curry Flavour
Step 1 Boil 450mil water in pot
Step 2 Add MAGGI® OatMee™ Mi Goreng Curry Flavour leave for 2 minutes.
Step 3 Drain water. Caution: HOT! Use with care.
Step 4 Add seasoning according to your taste preference and mix evenly.
Noodle cake: Wheat Flour (70%), Palm Oil, Salt, Potassium Chloride, Guar Gum, Sodium Tripolyphosphate, Potassium Carbonate, Sodium Carbonate.

Soup mix: Salt, Monosodium Glutamate, Sugar, Palm Oil and Olein, Starch, Black Pepper, Chilli, Malic Acid, Wheat Flour, Potassium Chloride, Flavourings, Galangal, Lemongrass, Soya, Citric Acid, Colouring, Wheat Grains, Palm Kernel Fat, Shallot, Garlic, Acetic Acid, Dextrose.

All additives are of plant or synthetic origin.
More Information
| | | |
| --- | --- | --- |
| Gandum | yes | - |
| Soya | yes | - |
| Krustasia | yes | - |
| Ikan | yes | - |
| Susu | yes | - |
| Saderi | yes | - |
| Biji Sawi | yes | - |
Yes - according to the recipe with the addition
No - According to the recipe, no additive
N / A - not specified