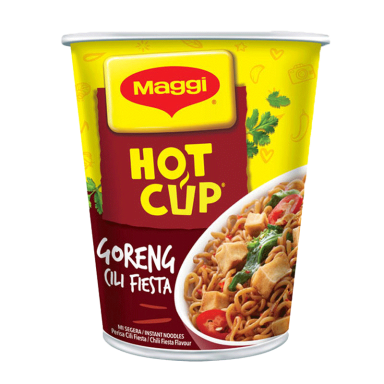 MAGGI® Hot Cup® Goreng Cili Fiesta
Indulge in a flavor-busting fiesta of aromatic fresh chilies and 'goreng' goodness with MAGGI® HOT CUP™ Goreng Cili Fiesta
Packed with chilies for that fiery fiesta kick, leaving you wanting more!

Ingredients
- Real chillies
- Garlic

How to prepare MAGGI HotCup Goreng Cili Fiesta
Step 1 : Open lid halfway, take out seasoning sachet.
Step 2 : Add boiling water, leave for 3 minutes.
Step 3 : Open opposite lid, drain water. CAUTION: HOT! Use with care
Step 4 : Add seasoning according to your taste preference and mix evenly
Noodle Cake: Wheat Flour (60%), Palm Oil, Tapioca Starch, Salt, Sugar, Mineral (Potassium Chloride). Contains Stabilisers As Permitted Food Conditioner. Contains Permitted Colouring.

Mix: Sugar, Salt, Onion, Chilli, Maltodextrin, Garlic, Palm Fat.
Contains Monosodium Glutamate, Sodium Inosinate And Sodium Guanylate As Permitted Flavour Enhancer. Contains Permitted Flavourings.

Sauce: Sweet Seasoning Sauce (Contains Soya, Wheat).

Flavoured Oil: Palm Olein, Onion.

Garnishing: Chilli.

All additives are of plant or synthetic origin.
More Information
| | | |
| --- | --- | --- |
| Gandum | yes | - |
| Soya | yes | - |
| Krustasia | yes | - |
| Ikan | yes | - |
| Susu | yes | - |
| Saderi | yes | - |
| Biji Sawi | yes | - |
Yes - according to the recipe with the addition
No - According to the recipe, no additive
N / A - not specified