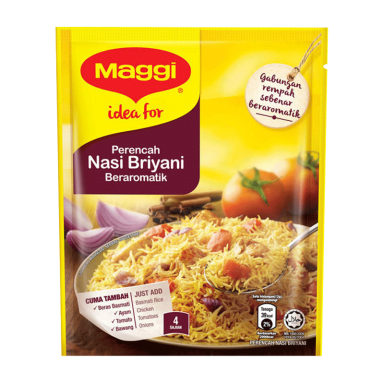 MAGGI® HARI-HARI Favourites Nasi Briyani
Nothing compares to an aromatic, flavourful plate of home-made briyani. A mix of the finest spices, aroma, and flavours brought together. Now creating a tasty briyani dish is just a dash away - no need for salt.
Salt, Maltodextrin (Contains Sulphites), Sugar, Skimmed Milk Powder (Cow's Milk), Tomato, Onion, Coriander, Palm Fat, Cumin, Turmeric, Chilli, Spices, White Pepper, Garlic.
Contains Yeast Extract, Sodium Inosinate And Sodium Guanylate As Permitted Flavour Enhancer.
Contains Acidity Regulator As Permitted Food Conditioner.
All Additives Are Of Plant Or Synthetic Origin.
More Information
| | | |
| --- | --- | --- |
| Sulfit | yes | - |
| Susu | yes | - |
| Krustasia | yes | - |
| Ikan | yes | - |
| Soya | yes | - |
| Gandum | yes | - |
| Saderi | yes | - |
| Biji Sawi | yes | - |
Yes - according to the recipe with the addition
No - According to the recipe, no additive
N / A - not specified