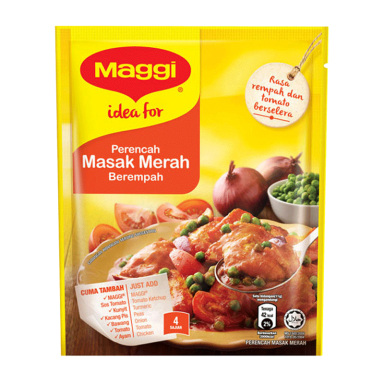 MAGGI® HARI-HARI Favourites Masak Merah
Enjoy that same delicious dish youve always loved with MAGGI Hari-Hari Favourites Masak Merah. Get a delicious, authenthic home-cooked masak merah the easy way.
The perfect mix for a delicious serving of rich, tangy, sweet, and spicy chicken.

Instructions
Made with real spices and tasty tomatoes - no more need for salt when cooking.
Sugar, Salt, Tomato, Garlic (Contains Sulphite), Onion, Cinnamon, Paprika Extract, Chilli, Palm Fat, Spices.
Contains Monosodium Glutamate, Yeast Extract, Sodium Inosinate And Sodium Guanylate As Permitted Flavour Enhancer.
Contains Permitted Colourings And Flavouring.
All additives are of plant or synthetic origin.
More Information
| | | |
| --- | --- | --- |
| Sulfit | yes | - |
| Krustasia | yes | - |
| Ikan | yes | - |
| Susu | yes | - |
| Soya | yes | - |
| Gandum | yes | - |
| Saderi | yes | - |
| Biji Sawi | yes | - |
Yes - according to the recipe with the addition
No - According to the recipe, no additive
N / A - not specified