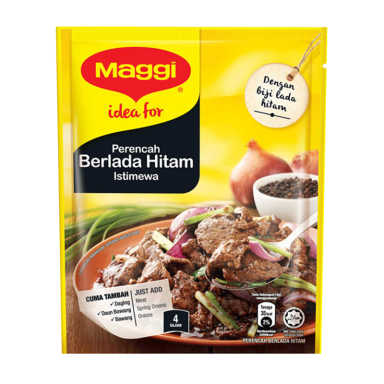 MAGGI® HARI-HARI Favourites Black Pepper
Recreate home-cooked favourites easily with MAGGI Hari-Hari Favourites Black Pepper. Enjoy the same delicious black pepper meat dish –just add meat, spring onions, and onions, it's that simple! A rich and robust flavour mix that makes most dishes a crown pleaser!

Instructions
Contains real black pepper - now theres no need to add salt to your cooking.
Maltodextrin (Contains Sulphites), Black Pepper, Corn Starch, Salt, Sugar, Palm Fat, Soya Sauce (Contains Wheat), Garlic, Onion, Coriander.
Contains Yeast Extract As Permitted Flavour Enhancer.
Contains Permitted Colouring.
All Additives Are Of Plant Origin.
More Information
| | | |
| --- | --- | --- |
| Gandum | yes | - |
| Sulfit | yes | - |
| Soya | yes | - |
| Krustasia | yes | - |
| Ikan | yes | - |
| Susu | yes | - |
| Saderi | yes | - |
| Biji Sawi | yes | - |
Yes - according to the recipe with the addition
No - According to the recipe, no additive
N / A - not specified