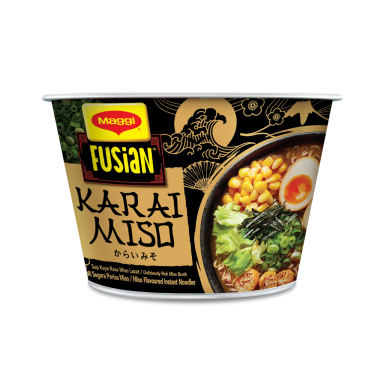 Savory rich miso from Japan, topped with chili oil for a spicy kick, paired with thicker and springier noodles, topped with chunkier garnishes for better bite.
Noodle Cake: Wheat Flour (60%), Palm Oil, Starch, Wheat Gluten, Salt, Sugar, Potassium Chloride, Sodium Tripolyphosphate, Guar Gum, Potassium Carbonate, Sodium Carbonate, Caramel.

Paste: Miso Paste (Soya Bean, Rice, Salt), Palm Olein and Fat, Chilli Paste (Chilli Powder, Corn Syrup, Rice Flour, Malt (contains Barley), Salt), Sugar, Yeast Extract, Onion, Garlic, Chicken Fat, Potassium Chloride, Chilli, Flavourings, Monosodium Glutamate, Vinegar, Salt, Ginger, Shallot.
Garnishing: Cabbage, Corn, Soya Protein.
More Information
| | | |
| --- | --- | --- |
| Sederi | yes | - |
| Krustasia | yes | - |
| Ikan | yes | - |
| Susu | yes | - |
| Moluska | yes | - |
| Biji sawi | yes | - |
Yes - according to the recipe with the addition
No - According to the recipe, no additive
N / A - not specified