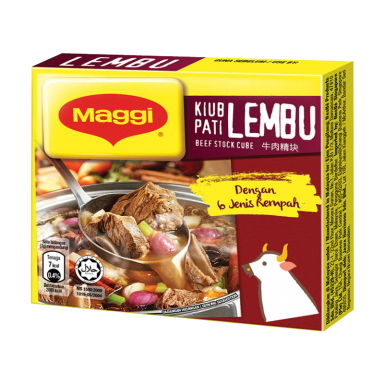 MAGGI Beef Stock Cube - makes meal even tastier with just one cube. Soups, broths, and even fried rice, just add a cube for that touch of perfection. Great for any homemade dishes
Made with REAL herbs & spices. Try one today for a truly delicious mealtime!

Ingredients
Contains real herbs & spices
Salt, Corn Starch (contains sulphite), Beef Fat, Beef Meat (1%), Sugar, Palm Oil And Fat, Onion, Black Pepper.
Contains Monosodium Glutamate, Yeast Extract, Sodium Inosinate and Sodium Guanylate As Permitted Flavour Enhancer.
Contains Acidity Regulator As Permitted Food Conditioner.
Contains Permitted Colouring And Flavouring.
All additives are of plant or synthetic origin.
More Information
| | | |
| --- | --- | --- |
| Gandum | yes | - |
| Soya | yes | - |
| Krustasia | yes | - |
| Ikan | yes | - |
| Susu | yes | - |
| Saderi | yes | - |
| Biji Sawi | yes | - |
| Sulfit | yes | - |
Yes - according to the recipe with the addition
No - According to the recipe, no additive
N / A - not specified