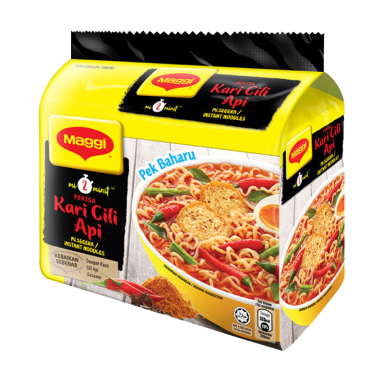 MAGGI® 2-Minute Noodles Kari Cili Api
Experience delicious explosion in an instant with MAGGI Kari Cili Api.
Lift up your appetite with a fiery, spicy sensation with a mix of spicy chilli extract and secret authentic spices! Pure extracts of fiery red, dried chillies and real curry spices.

How to make Maggi 2-Minute Kari Cili Api Noodles
Step 1 Boil 450mil water in pot
Step 2 Add Maggi 2-Minute Kari Cili Api Noodles Leave for 2 minutes.
Step 3 Drain water. Caution: HOT! Use with care.
Step 4 Add seasoning according to your taste preference and mix evenly.
Noodle Cake: Wheat Flour (70%), Palm Oil, Salt, Mineral (Potassium Chloride). Contains Stabilisers As Permitted Food Conditioner.

Soup Mix: Salt, Palm Oil And Olein, Chilli, Tapioca Starch, Wheat Flour, Soya Sauce, Coriander, Potato Starch, Sugar, Cumin, Spices, Curry Leaves, Garlic, Onion, Paprika Extract, White Pepper, Aniseed.
Contains Monosodium Glutamate As Permitted Flavour Enhancer.
Contains Permitted Flavourings.

All additives are of plant or synthetic origin.
More Information
| | | |
| --- | --- | --- |
| Gandum | yes | - |
| Soya | yes | - |
| Krustasia | yes | - |
| Ikan | yes | - |
| Susu | yes | - |
| Saderi | yes | - |
| Biji Sawi | yes | - |
Yes - according to the recipe with the addition
No - According to the recipe, no additive
N / A - not specified